This has been an exceptional year for PCLC as we strived to meet the legal demand of a large and diverse community. We sustained our work on our organisational foundation to support our continued growth and focus on quality and holistic services. We enhanced our service delivery with the implementation of new programs and community venues as well as working hard to attain funding security for existing programs.
We continue to forge strong strategic partnerships with key stakeholders in the justice, health, family violence, housing and community service sectors. These partnerships will enhance capacity, add value to PCLC's existing suite of integrated services, strengthen and develop innovative best practice and create sustainable service delivery models that target our priority group clients.
The collective efforts of our staff and volunteers in 2019 have produced impressive results in the delivery of our legal services. This past year, PCLC assisted 6,676 people with the provision of 11,127 legal services. As our client stories highlight, our intensive casework and holistic services are making a difference, with often life changing outcomes for our clients.
A fundamental function of our legal work is our family law and family violence casework and litigation practices, with family law our most common legal problem, and more than a third
of our clients reporting family violence. A unique advantage of our family law and family violence practice model is that it involves ongoing complex legal casework where our specialist lawyers are able to conduct cases from start to finish, with this work often emanating from our duty lawyer services based in the Federal Circuit Court and State Magistrates Courts.
We welcomed the news of further funding for our Family Advocacy and Support Service (FASS) and our Family Violence to Family Law Continuity Program, after positive evaluation findings by the Australian Government Attorney General's Department and Victoria Legal Aid. These programs are integral to our integrated service delivery model.
Our collaborations in family violence were enhanced with our new visiting service to the Victorian Government's Family Safety Hub (Orange Door). This service is delivered in partnership with Victoria Legal Aid, Peninsula regional office to assist those experiencing family violence to navigate the complex legal framework of the family violence system.
"Alone, we do so little; together we can do so much"
-Helen Keller
Our regional planning work and collaboration with the South Eastern Regional Legal Needs Assistance Network (SERLAN) was at the forefront of our work this past year, with the impending and ultimate closure of Casey Cardinia Legal Service (CCLS). The Casey & Cardinia regions are two of the fastest growing local government areas in the State. PCLC was pleased to commence new weekly visiting services in Pakenham and Clyde North this past year. CCLS along with PCLC, Springvale Monash Legal Service and Victoria Legal Aid have been the primary legal services in the region. PCLC would like to acknowledge the 42 years of services CCLS provided to the community. PCLC would like to thank Springvale Monash Legal Service for their collaboration and commitment to a shared principle of regional service planning, and the management of those needs both over the past few years and into the future.
Our response to the impact of fines in the region was bolstered with two innovative projects; ConnectEast and the Work Development Permit Project (WDP). The Centre has been grappling with the issue of out-of-control fines for several years, with 28% of all toll enforcement Infringements issued in 17/18 arising within the Centre's catchment. We welcomed the partnership with ConnectEast to work on early intervention strategies to prevent the associated issues with the non-payment of toll fines, and to raise awareness of free legal services. Flyers were distributed to targeted postcodes across the South Eastern suburbs. Providing clients with fines options is the focus of our Work Development Permit Project. This project is funded by the Victorian Legal Services Board to broaden the range of accreditated sponsors in the scheme and increase access to the WDP scheme for clients of the South Eastern suburbs.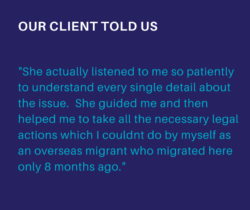 Our commitment and belief in the principle of affordable and appropriate housing is evident in the holistic work of our Tenant Advocate and Assistance Program and our Rooming House Outreach Program. We were pleased to receive the news that the Rooming House Program funding was extended.
The drive for excellence remained strong this year with our emphasis on continuous quality improvement, we implemented strategies to enrich our Accreditation under the National Association of Community Legal Centre's scheme. Our Management Committee and Leadership team led the monitoring and review of our policies, procedures and associated practices to ensure that we met our obligations and reflected on, and improved those practices. Our practice team actively participated in local and state community of practice initiatives to develop, discuss and support strategies for quality practice.
Our PCLC community was strengthened with the addition of two new pro bono partnerships. We cordially welcome Gadens and King & Wood Malleson's who join our long standing partner Russell Kennedy, to provide pro bono support to the Centre.
We would not be able to deliver our services without the generous support of our funders, Federal, State and Local Governments, pro bono supporters and donors whose support of the organization is integral to our continuing development and sustainability now and into the future.
 "There is no power greater than a community discovering what it cares about"
-Margaret J Wheatley